Sustainable Financial Solutions
As a financial services company and responsible corporate citizen, we have a deep commitment to contributing to our community. We want to do things differently.
Among the solutions offered to our clients, we incorporate ecological and socially responsible funds so that they in turn can have a positive impact on society today — and tomorrow.
Our commitment to sustainable development

One of our key values is care. We ensure that our internal operations, products and services help make the Earth better. By offering our clients products with a positive impact on the environment and by promoting collaboration with local suppliers, we are doing our part to optimize our work practices and maximize our positive impact.

Commitment to social responsibility
We believe that education offers everyone a way to create wealth in their life and community. That's why we support education at all levels. We place particular importance on helping drop-outs return to school, to help reduce social inequality and improve qualifications in the Outaouais region workforce.

Commitment to our community
Together, the PPTA team has created an impact fund, through a set contribution for each transaction made by our clients. We have chosen to expand the scope of contributions to the community each year. We think this is important and we involve the entire team in these actions.
Impactful Gestures. Our heart is in it!
The PPTA team has become green. Every day we are conscious that our small actions can help. We are also involved with organizations and causes that are important to us.
Use recycled paper
Print on both sides of paper
Hold paperless meetings
Replace bottled water with tap water
Choose local suppliers
Choose ecological client gifts that support community organizations
Be environmentally responsible when using heating, air conditioning and lighting in the office
Increase recycling and composting by making bins more accessible
Cofounder of the Regroupement des jeunes philanthropes
Cofounder of Philanthropie Outaouais
Cofounder of the Centre des jeunes dirigeants d'entreprise du Québec – CJD Québec
Our commitment to sustainable development is based on our values, which drive our actions and decision-making.

Consideration
We'll work with diligence and care to obtain the best results for each person and every project.

Integrity
Our values direct our actions, and our actions are a testimony to our professionalism and integrity.

Camaraderie
We value the quality of our relationships; created through meetings that build strong connections filled with trust and positivity.

Pride
We are passionate about our mission, we recognize that it allows us to improve the quality of life of people and our environment.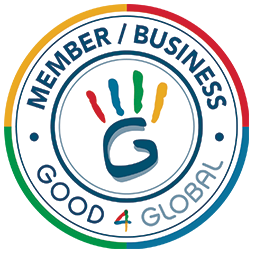 Local Commitment for Global Impact
Our commitments are reflected in a strategic plan and local actions, allowing us to maintain a constant positive evolution in terms of three of the United Nations Sustainable Development Goals:
We follow the continuous improvement and accountability process of the Good 4.Global organization. Each year, we publish information about our progress toward our commitments.
Come meet our team. They can help you define your needs and hopes, and work with you to create the strategies to reach them.